Rally Colorado will return to Rangely
June 5/6, 2021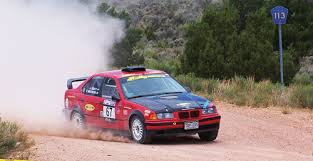 If you would like to watch the event please refer to the guide below. 
Stage Rally car racing is modified street-legal production cars racing as fast as possible on underdeveloped roads (stages) in any weather conditions against the clock. Cars will slip, slide, and jump through miles of roads trying not to hit rocks and trees. A navigator accompanies the driver verbally issuing instructions on what turns are coming. The car with the fastest stage time wins the stage. The car with the lowest combined stage time wins the rally event.
Rallies are only possible with the help of hundreds of volunteers that do everything from spectator control to help with timing and scoring. As a volunteer, you will have the chance to watch the rally from the best locations – spectator control volunteers get to stand in the best spots, closest to the action. You'll also get to meet teams, drivers, and rally officials for a true insider experience. Every rally could always use more volunteers, so don't hesitate to sign up.
Rallies are usually free to the public! You may need to pay for a spectator guide, which will give you all the details on the designated spectator areas. You may only watch a rally from these designated areas. Most events keep the rally route a secret until just before the event begins, therefore you usually cannot get detailed spectator info in advance of the rally weekend. It is best to use the Rally Colorado website and the event's website to find lodging, schedule, and spectator info.