Western Rio Blanco Parks & Rec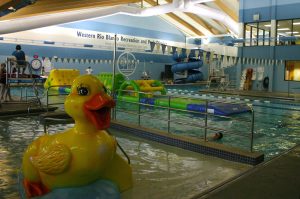 Western Rio Blanco Metropolitan Recreation and Park District is the centerpiece of all things fun in Rangely! The center offers a junior Olympic size pool, kiddie pool, deep end diving board extension, hot tub and water slide.
Also available is a brand-new weight room, recently updated cardio room, multipurpose room, game room, programs and activities for all ages and much more.  The Rec Center is open seven days a week offering fitness classes you can easily pop into and enjoy!  Free WiFi is available.
The small, unique Town of Rangely always has something going on so feel free to go to the Rec Center's website for upcoming events.  Their website address is: https://westernrioblancomrpd.colorado.gov/
Explore, relax, and have fun at our beautiful Rec Center!  You will discover that Rangely is truly WAY OUTSIDE OF ORDINARY!
Daily Admission- Resident
Youth (3-12) $2.00
Teen (13-17) $2.50
Adult (18-61) $2.75
Senior (62+) free
Daily Admission- Non-Resident
Youth (3-12) $2.50
Teen (13-17) $3.00
Adult (18-61) $3.25
Senior (62+) $1.00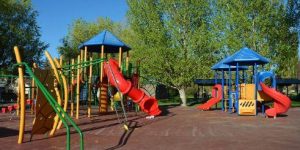 Located down the hill from the rec center is a beautiful town park, which is a hub for excitement, called "Elks Park." The park has many fun things to offer such as a playground, horseshoe pits, sand volleyball courts, two softball fields as well as gazebos and pavilions that can be reserved for events.
During the spring/summer months you can experience youth and adult baseball games, picnics, and the annual Steptemberfest Arts/Crafts Fair including a car show.
Address:  311 S. Stanolind Ave, Rangely, Colorado  81648
For Pavilion/Gazebo reservations call (970) 675-8211.  Restrooms are available.

On the edge of Rangely, located at 940 E. Rangely Ave, is an extraordinary campground called "Camper Park."  The campground includes 26 spaces for camping with some electrical hookups, restrooms, showers as well as a dump station. A picnic shelter is also available with an area set aside for fun.  This area includes a sand volleyball court, horseshoe pit, White River access and fishing at the stocked pond.
$20 for spaces with electrical hook ups
$15 for spaces without electrical hookup
Non- Campers can shower for $2
Non- Campers can use the dump station for $5
There is a 14 day limit on camping
Hefley Park is a great place to enjoy serenity. The park features a small trail where you can ride your bike or take a walk or run, as well as a Pavilion to enjoy a picnic.  At the center of the park is a memorial dedicated to all the men and women who have valiantly risked their lives for our freedom. Restrooms are also available.